Dataprobe iPIO-16: Networked Relay Controller
iPIO-16
$655.00
$
584.59
Save
$70.41
Model:
16 Input / 16 Output
The Dataprobe iPIO-16 (SKU 1340080) is a network attached, IP addressed digital 16 input and 16 output device. The iPIO-16 can be controlled and monitored with a standard web browser. Multiple iPIO-16 devices can communicate amongst themselves to transport I/O information across the network. Highly flexible telemetry systems can be developed with these simple devices.

Simple Web Browser Control and Monitoring
The Status and Control web page provides real time status of the inputs, outputs and remote iPIO unit connections. The top of the page indicates the location reference, which is user settable.

Each input, output and remote device is defined by a user selectable name. Inputs and outputs can also be assigned names for Open and Closed statuses, as well as background and text colors for each. All configurations are accomplished via the setup tab at the top of the screen.

If the iPIO-16 is programmed to communicate with additional units, each remote unit will be displayed at the bottom of the page. Each remote site displays red or green, indicating connection status.
Dataprobe iPIO-16 Features
Web Browser Relay Control
Ethernet I/O
Transport GPIO over the Network
Contact Closure via IP
SSL and AES Encryption
16 Form C Relays
16 Digital Inputs - Wet or Dry
One Input to Many Outputs
Many Inputs to One Output
Any to Any - Many to Many
Dataprobe iPIO-16 Applications
iPIO-16 is simple to install and easy to use, but enables you to develop highly flexible telemetry systems.
iPIO - Transport I/O Events Over IP
Bidirectional GPIO Event Transport
iPIO-16 gives you the ability to transport digital I/O across Ethernet networks with IP protocols. Multiple iPIO devices can communicate amongst themselves to transport I/O information across your network, and links are bidirectional, so events in either location are reflected at any other site. Any changes in status appear at the other end of the network as relay outputs. 2 Units are required for End-to-End transport. Contact us for a discount on paired units.
Monitor & Control iPIO Over the Network
Get real time status updates on you web browser and click to control any iPIO relay. Monitor and control digital I/O worldwide using an SNMP V2 compliant manager. iPIO can also send emails when events occur.
iPIO - Multi Site Event Reporting
One digital input can trigger relay controls at multiple remote locations. With iPIO, one alarm can trigger events throughout your network, making it easy to respond to physical events and manage your systems remotely:
Climate Control
Industrial Control
Security Alerts
Firehouse Doors
Irrigation Systems
iPIO - Consolidate Events Across Sites
Events from multiple locations can also be consolidated to a central alarm point. Digital inputs from any iPIO unit can be mapped to the relay output of any other, giving you maximum control:
Environmental Alarm Summaries
Storm Warning Systems
Security Alerts
Pump Controls
iPIO-16 Package Contents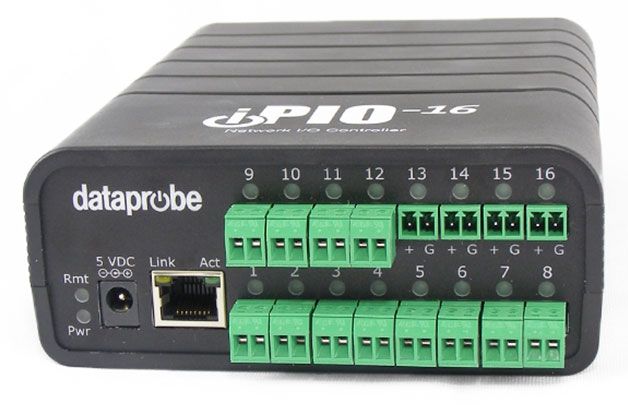 (1) iPIO-16
(1) 6ft Cat5 Network Cable
(1) AC Power Supply
(1) Quick-Start Guide
(1) 3-Year Warranty
Dataprobe iPIO-16 Specifications
Mechanical
Height
2.02 in. (5.13 cm.)
Width
5.00 in. (12.7 cm.)
Depth
7.32 in. (18.6 cm.)
Environmental
Temperature
0 - 50 Deg C Operating
Humidity
90 Pct Non Condensing
Power
Wall Mounted Power Supply, included
105 - 240 VAC 50/60Hz or +5VDC direct.
Connections
16 Terminal per Input. (common ground)
Three Terminal per Relay Output (Form C)
LED Indictors
16 x Input.
16 x Output.
Network Link and Activity.
Remote Unit Link Status.
Power
Inputs
8 Digital Inputs.
Dry relay/switch closures or
+/-3VDC to +/-30 VDC
Grounds common
Control Relay
Current Maximums
0.5A @ 120VAC or 1A @ 24VDC
Switching Power
60VA Max 50uW Min
Switching Voltage
120VAC or 60VDC Max 1VDC Min
Switching Current
2A Max 1mA Min
Resistance
100 milliohms (initial value)
Operations
5 Million, mechanical. 100K at maximum load
Network
HTTP Web Server
SSL Security - Optional
AES Encryption on Inter-device communication - Optional
DHCP Assigned or Static IP Address
Port Selectable for http, https and Inter-device communications
Inter Device Communications via TCP/IP Protocol, supplied.
The Dataprobe iPIO-16 is also known as Dataprobe 1340080.
UPC

700220864054

EAN

0700220864054

Question: Could I program one of these so that when a button attached to say relay 1 is pressed, it would turn on relay 1 on another iPIO located in a different location but on the same network to power a light bulb or something like that?

Answer: Thank you for your inquiry,

You could indeed! Dataprobe IPIO series designed to allow multiple iPIO products to communicate and control one another across networks. For more information on setup and programming of the devices, please refer to the

Dataprobe IPIO-16 manual

.

Also for a solution based on your application, please feel free to

contact our sales team here

.

'; jQuery("head").append(faqQsSchemaText); }});